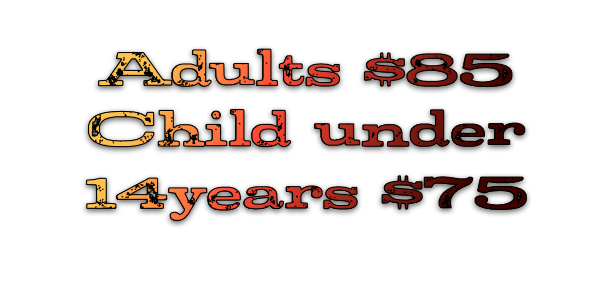 Daily Horse Rides at 9.30am & 2pm.
Horse riding on the 1600 acre property is the most popular attraction, with over 60 gentle mannered horses to choose from, all ages and levels of experience are well catered for. The rides are over pastures & bush land where you can enjoy the  cattle and perhaps also the wildlife.
Then there is water skiing &  tube riding on the resorts own 17 acre lake. All of these activities are great fun and very rewarding.
Night Horse Riding and Dinner Packages are enjoyed monthly around the time of the full moon.  
Experience our award winning trail ride to the river, enjoy the piping hot soup & garlic bread beside the bonfire(permit allowing) before returning to the homestead by the light of the moon or stars where a 2 course BBQ meal will be served in the dining room.  Bar is open for refreshments.  If you would prefer not to ride a horse, our vehicle will take you to the river where you will greet the riders as they arrive. 
Dates.  2019-   16th February, 23rd March, 20th April, 18th May, 15th June, 13th July, 17th August, 14th September, 12th October, 9th November, 14th December.  Dates may change.
$130 Adults (riding), $45 not riding.  $105 Children (riding), $35 not riding, children up to 14years of age.
Minimum of 15 riders from combined parties for the ride to begin.  Full payment on booking with full refund if the ride does not go ahead.  Notified as soon as we have 15 riders.
4pm arrival.
What types of horses do you have and how are they trained?
We have over 50 riding horses with a variety of breeds, all are natural horsemanship trained.
How long do your horseback trail rides go for?
Day Rides go for 2 ½ hours with refreshments
Night ride: 4.00pm - 8.30pm including 3 course dinner
How frequent are the trail rides?
Our trail rides run every day twice a day.
Enjoy a morning ride beginning at 9.30am, or in the afternoon beginning at 2pm.
Bookings are essential, minimum number of 2 riders for a day ride.
Riders need to be at the resort 30 mins before the ride leaves to fill out the appropriate paperwork and for a safety brief.
Is there a minimum age for horse riding?
Yes the minimum age for horse riding is 4 years old and they would start off being led by one of our trail guides.
What should I wear?
For horse riding you will need to wear long pants and closed in shoes,
We also recommend a long sleeve shirt for sun protection but not required.
Sunscreen and bug repellent is also a smart move.
What happens if the weather turns unfavourable?
We will proceed with riding unless it is pouring rain and lightening.
Can I bring my own horse?
Yes you can, however the same cost applies.
Do I have to wear a helmet and do you have one to fit me?
Yes helmets must be worn at all times.  We have a range of sizes to cater to all needs.